About The Surrounding Area
Maspalomas is the centre of the Holiday resort of Gran Canaria - known as Maspalomas Costa Canaria or locally simply as el Sur - the South. This all-embracing name incorporates Maspalomas itself and the adjacent localities of Playa del Ingles, Melonares and San Agustin. Surrounded by a series of quiet palm lined avenues with a distinctive Beverley Hills feel, Maspalomas boasts the largest area of natural sand dunes in Europe as well as a stunning 4 kilometre long beach linking the Faro lighthouse at Melonares on one end and the resort townships of Playa del Ingles and San Agustin on the other. The villa is right in the heart of this area equidistant from all the constituent parts of Maspalomas Costa Canaria … the ideal base from which to explore the beautiful island of Gran Canaria.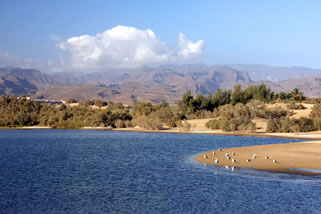 The Natural Beauty of Maspalomas Beach & Sand Dunes
The Maspalomas Beach and sand dunes are about a 10 or 15 minute stroll from the villa. They offer some of the most spectacular views in Europe - the dunes are an ever changing kaleidoscopic sandscape populated by scores of rare wild birds and fauna. A picturesque lagoon by the beach teems with fish and offers a stunning view of the mountains of central Gran Canaria. From the Faro lighthouse at Melonares at one end the beach stretches along the coast to Playa del Ingles and San Agustin at the other. The Maspalomas beach is very family friendly, but there are also sections for surfers and further on - naturists and the gay community. Dotted along the way are a series of bars and cafes for refreshment.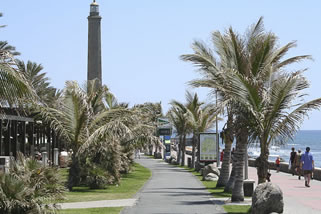 The Lighthouse and Melonares Seafront
At one end of the beach next to the lighthouse is the beating heart of Melonares - a lively cosmopolitan seaside promenade with luxury shops, cafés, some excellent restaurants and a clutch of 5 star hotels - nearby are fashionable cocktail bars, a casino and a romantic open air starlight cinema showing an ever changing repertory programme of English and American movies. Like the beach, Melonares is within easy walking distance of the villa.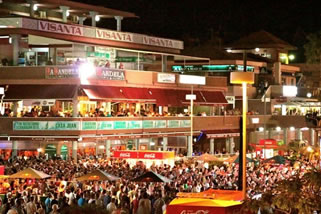 The Crazy Nightlife of Playa del Ingles
At the other end of the Maspalomas beach is Playa del Ingles famed for its nightlife and late night razzmatazz. Revolving around the souvenir shopping bazaars; the Yumbo, Cita and Kasbah Centres, Playa is jam-packed with every kind of restaurant and bar. All three Centres explode with excitement, colour and music after 10.00pm and keep going till sunrise - the Kasbah is crammed with a range of themed bars and mixed dance clubs for boys and girls of all ages, the Yumbo is a major gay centre with everything from cocktail bars and gay and lesbian discos to drag shows and fetish clubs. The Cita Centre has a mixed European clientele with a slightly older bias. Playa del Ingles is also within walking distance of the villa but in any case is no more than 5 minutes or €5 by taxi late at night.
We really enjoyed our time at Villa Paraiso. The villa is lovely and the facilities excellent – especially the pool which is great fun and a good way to cool off – it's easy to see how you could spend your whole holiday here! The walk down to the beach is pleasant along the barranco (dry river bed) and the sea great for swimming in. When at the beach we completed the dunes walk and it's definitely recommended. For children (or adults!) Aqualand is a great day out with some really good slides to go on. The botanical gardens (Palmitos Park) we felt were a hidden gem, and the views from Roque Nublo in the Mountains were spectacular. Thank you very much!
Debbie Raymond and Family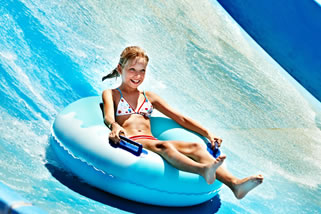 Around and about Gran Canaria
Within a five minute drive or easy taxi ride you can find
Aqualand Water Park – a never ending series of cascading water thrills for children of all ages
Sioux City Western Town - a touch of the Wild West with regular rodeo displays
Championship Go Cart Track at San Agustin; open for all ages to have a go.
Helicopter, Paragliding and Scenic flights from San Agustin aerodrome
The Maspalomas International Golf course is 200 yards from the villa and the Lopesan Melonares Golf course is 5 minutes by car or taxi



Slightly Further Afield

Coastal sightseeing ferries, Daily Yacht, catamaran and Gulet Cruises, Deep Water Fishing Trips, Dolphin Watching, scuba diving, water sports from Puerto Rico and the picturesque fishing village - the "little Venice" of Gran Canaria - Mogan (20 minutes by car, taxi or bus – slightly longer by boat !). Jet skis and other water water sports are also available from the nearby beach of San Agustin and also the stunning Amadores Beach between Puerto Rico and Mogan.
The city of Las Palmas is the island's cultural capital with a cathedral, historic buildings, atmospheric streets, squares and shopping (one hour by bus or car).
World Class Concerts and Music in Las Palmas The Alfredo Krauss auditorium overlooking the glorious beach of Las Canteras, hosts an annual music festival to rival any in the world. The Perez Galdos Opera House regularly presents world class music, theatre, ballet, musicals and Opera.
The Island Tour by car or bus reveals a beautiful wild unruly Mountainous landscape which has been dubbed a mini Grand Canyon giving way to luscious green pastures in the North - dotted throughout with picturesque Canarian villages selling traditional artefacts and handicrafts.
Other Golf courses at Tauro (20 minutes drive), El Cortijo (half an hour drive), Salobre Golf (10 minute drive) and Bandana (45 minutes to an hour – but stunning).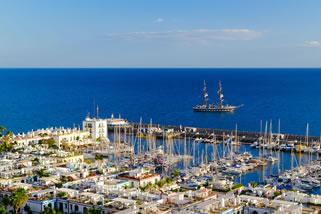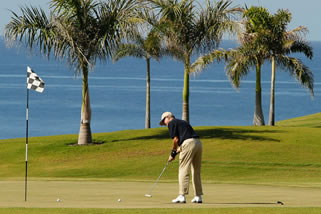 Gran Canaria has so many different faces that it is truly a mini Continent.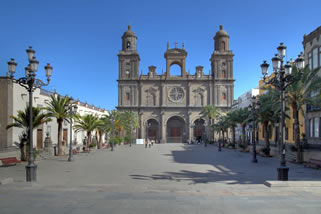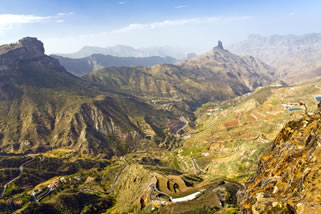 SUNSHINE ALL YEAR LONG
Thank you so much for the use of your wonderful villa. This was our 4th visit to the island and I have to say the best yet. We loved the villa, its garden and the pool/Jacuzzi is such an added bonus, very quiet and relaxing area and great base to see the wonderful sights and attractions.
Keith and Zoe Hayden